Robins (Reception and Year One) - Miss Kalnins
Miss Kalnins - EYFS Lead and Class Teacher
Teaching Assistants - Mrs Nikaljie (Reception and year one), Miss Newsome (Nursery) and Miss Farmer (Nursery)
Welcome to Our Reception and Year One class!
I am so excited to be taking on a new role in school, our first topic is Marvellous Me!

'Marvellous Me' is a great topic to start off with where we will explore all about each other and our families. We will spend lots of time settling in and getting to know each other. We will be focusing on building relationships, celebrating our feelings and emotions of starting a new school, new year and having new routines.
We will be having a go at self-portraits using a range of materials, we will be looking at many drawing techniques to show texture in our work.
We will be talking lots about our families and why they are special to us. We will be looking at the chronology of our lives, and we will make our own simple timelines.
Please find our curriculum jigsaw below which will give you an overview of our topics this term.
A huge welcome to our new families, who are new to our Christ the King family, please feel free to pop in if you have any questions at all.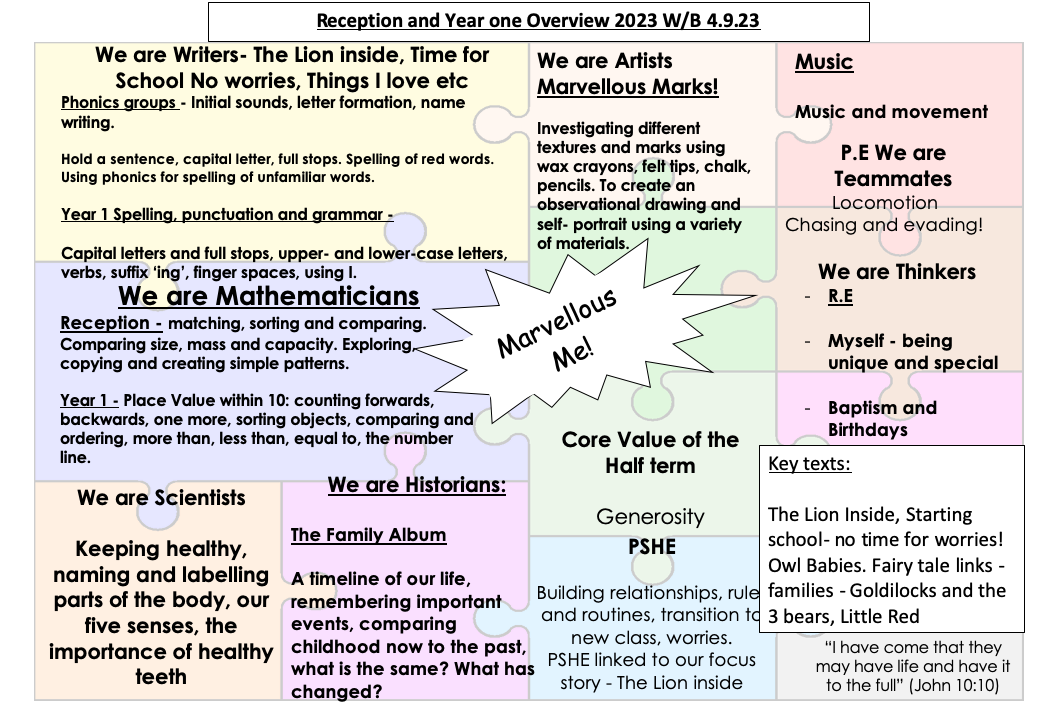 Phonics
Phonics is taught every day and children are regularly assessed and re-grouped according to their sound knowledge, accuracy and fluency in reading.
Our new reception starters will begin their first lessons and get to know their first 5 initial sounds - m, a, s, d, t
Our year one children will be ready to move into their new groups for set 2 and 3 sounds.
Homework
Homework will be changed each term. There will be a variety of simple project based tasks for you to choose from. Some will take less time than others, so it will be your choice as to when you choose to do the activities. We usually expect one per week but you can choose to do as many as you like. The children love to bring in their creations to share with the class. Homework can be sent through our class email robins@christtheking.cheshire.sch.uk or you can attach a photo on class Dojo.
Reading
Once your child can blend words independently - they will receive a 'blending book' to read at home every day. Once your child can read simple sentences - they will bring home a reading book which should be read at home at least 3 times a week. This will ensure your child gains more confidence and becomes more fluent in their reading.
PE.
Please ensure your child has a full P.E kit in school. They will need a black pair of shorts, plain black joggers or leggings, a plain white t-shirt and pumps/trainers. All items will need their name clearly written on them, this is extremely helpful when the children are dressing and undressing for P.E.